History of New Rochelle Landmarks
A Brief Look About This City
There is a great amount of history hidden in the little city of New Rochelle.
In todays society, many would not look at this suburb as being large on historical value, however that does not disqualify the areas of content.
New Rochelle was based on the grounds of Native American Land. It is one of the oldest communities in the state of New York.
New Rochelle is located in Westchester County. Originally, the land was owned by the Siwanoy Indians.
In 1654, the invasion of land began with the purchase of Pelham Manor Tract, by Thomas Pell.
About thirty-four years later, French Protestants named Huguenots started to settle into the area.
They renamed the land La Rochelle, which they got from the port in France that they had departed from.

Thomas Paine Cottage
In 1784, 300 acres of land were awarded to a man named Thomas Paine, by the state of New York, for agricultural purposes.
Thomas Paine was not only an author, he was also considered a hero of the American Revolution.
Built on that land, Thomas' home was built on what is now known as Paine Avenenue, in New Rochelle.
In 1805 he wrote his last pamplet on the reform of the constitution.
In 1850, the cottage was purchased in order to preserve its historical value.
It was later sold, and it wasnt until 1908 that the preservation efforts finally payed off.
The house is now considered an official monument and can be visit as a museum setting, by whomever would like to view it.
This site not only includes the cottage location of Thomas Paine, but also a grave site and musuem.

Glen Island Castle and History
Another historical landmark is the castle located in Glen Island, New Rochelle.
Glen Island was originally created in 1879, as a summer resort for a business representitive named John H. Starin.
Orginally the park consisted of a zoo, musuem and beach. The German Rhineland castle was used as a beer garden and restaurant.
Although this castle is no longer in use, it still stands in its original form today.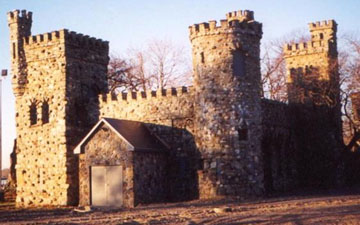 In Westchester County, Glen Island is the second most widely used park today.
It not only features a dock on which to fish and cast boats off of, It also offers features picnic areas, cannons, playgrounds and a restaurant.
On the premises of Glen Island, there was famous restaurant called Glen Island Casino, popular during the Big Band era.